Posted on Oct 5th 2017
by Australian Workplace Supplies
Sometimes it can be a bit daunting running an audit on your businesses health and safety processes or starting a new business from scratch.
Where to start? What's the most important elements? What order should you do everything in?
Well, National Safe Work Month is the perfect time to stop and reassess your business, make positive changes and set up best practice solutions.
Safe Work have created this five step process to create a safe and healthy workplace.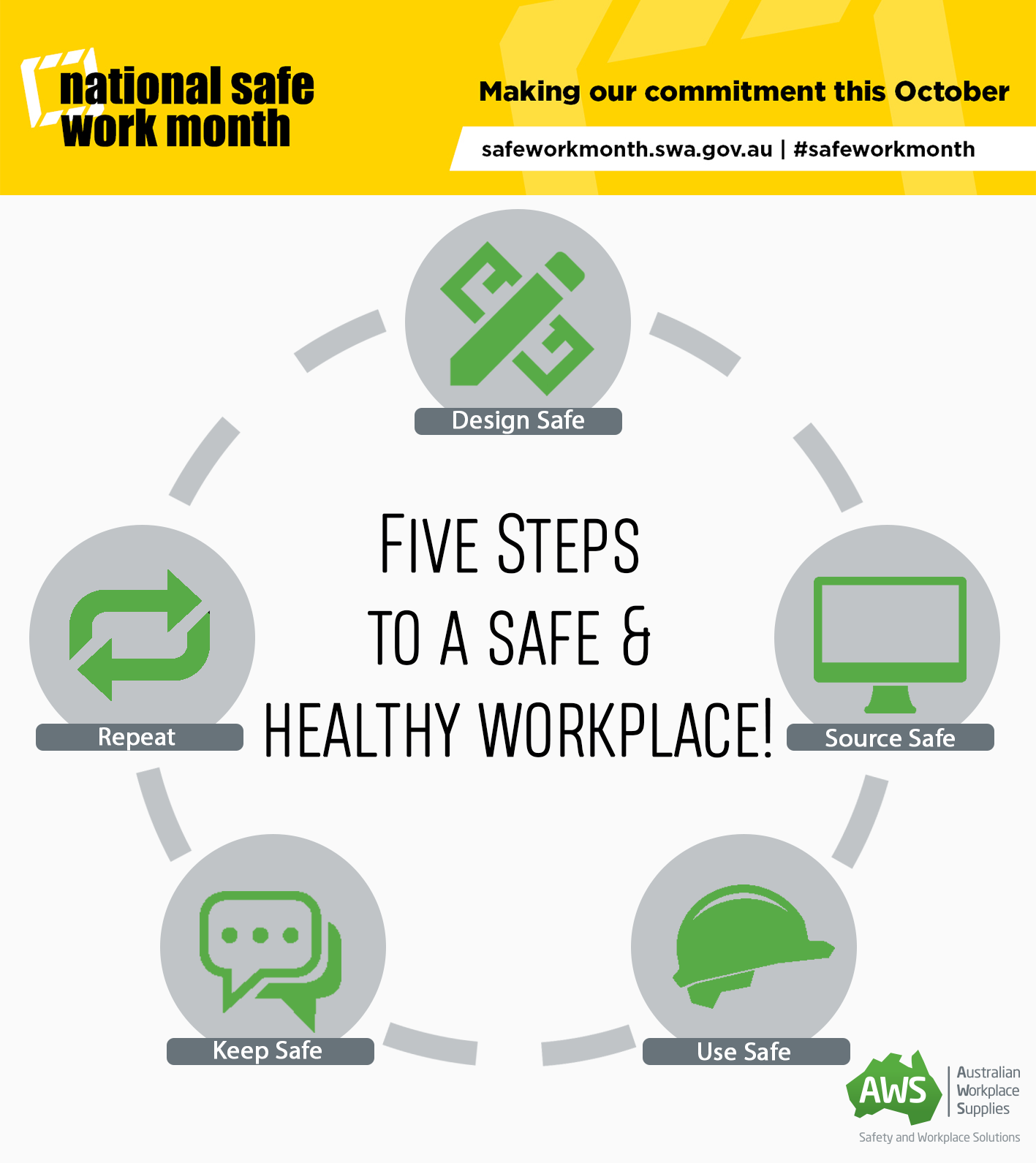 Design Safe
Designing your workplace to be hazard free and risk adverse, is the best and most efficient way to start a business or new work site/space.
Things to consider when designing your workplace:
What are the physical, mental and emotional demands associated with getting the work done?
Where is, the work done and what is the working environment like?
What machines, equipment, materials, substances, vehicles and structures used?
Who's doing the work and do they have the tools, skills and resources they need to do it safely?
Source Safe
Having the right tools for the job is by far one of the most important things to consider when doing anything at work, whether that's on a work site or in the office.
Cheap, faulty or misused equipment increases the chances of issues & hazards and tends to cost more money in the long run.
Things to consider when sourcing products and equipment:
When buying materials and equipment, have you consulted the people who use them?
Are you buying equipment that's designed for the task, fit for purpose, and suited to your unique workplace?
Are you sourcing from overseas and inadvertently importing risks?
Use safe
Make health and safety part of your workplaces daily routine, talk about risk prevention, hazard reporting and encourage everyone in your workplace to speak up. Especially if they feel unsafe or unsure.
Things to consider every day:
Have you done a risk assessment?
If you know the risks are the right controls in place?
Is a safe work method or quick safety check always done before work starts?
Has everyone been trained appropriately?
Is the equipment being used as intended? Does everyone feel confident using it?
Is personal protective equipment required and does everyone know how to wear it?
Is the emergency plan up to date and understood?
Keep Safe
Damaged and unmaintained equipment and work areas can become a huge hazard to both the physical and mental health of staff and users. It's important to ensure everything is up to date and every person at work has what they need to do their job and keep safe.
Things to consider when keeping safe at work:
Has broken or damaged equipment been replaced?
Are your maintenance schedules up to date?
Can workers report breakdowns and malfunctions easily?
Are your systems and equipment contemporary?
Can kit be cleaned and stored appropriately?
Repeat
Safety doesn't clock off, it's important to always stay on the ball and make sure your workplace safety journey never ends. Continuously review your workplace, your equipment, your processes, your staff training and their thoughts and feelings about safety and health at work.
Things to consider when repeating your health and safety processes:
Are your current risk controls still working?
Are there new or emerging risks which need to be controlled?
Have you made sure you are also controlling uncommon but potentially catastrophic risks?
Have you investing your work health and safety resources where there is the greatest potential for reducing harm?
Are you ready willing and able to respond to any early warning signs?
What steps are you taking at your workplace to be safe and healthy?
Read more here: https://www.safeworkaustralia.gov.au/national-safe-work-month/five-steps